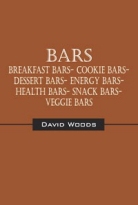 David's newest book talks about several bars - breakfast bars, cookie, dessert, energy, snack, health, and veggie bars Your family will appreciate your breakfast bars. Cookie bars are a great treat to serve at parties or give as gifts or share with the family at home. Make energy bars to take on tours, club rides. Health bars with dried fruits and nuts are a delicious snack! See some samples below ~
Spicy Spinach Bars

1 cup all purpose flour
1 cup whole wheat flour
1 1/2 cups firmly packed light brown sugar
2 teaspoons baking powder
1 teaspoon baking soda
1 teaspoon ground cinnamon
1 teaspoon ground ginger
1/4 teaspoon ground cardamom
1/2 cup fresh pineapple juice
2 cups cooked spinach, pureed, with stem removed
3 eggs

Preheat oven to 350 degrees. Grease and light flour 15 x 10 x 1 inch jellyroll pan. In a large mixing bowl, combine all ingredients; with electric mixer beat low speed until moistened. Beat for 2 minutes at medium speed. Spread batter onto bottom of prepared pan. Bake for 20 to 30 minutes or until inserted toothpick in center comes out clean. Place on a wire rack and let cool completely. Cut into bars.
Makes 48 bars


Black Bean Bars

4 cups crushed graham crackers
1 cup (2 sticks) unsalted butter, softened
1/2 cup powdered sugar
1 cup unsweetened chocolate
1/2 cup (1 stick) unsalted butter
4 egg whites
1 1/2 cups granulated sugar
1 cup black bean puree
2 tablespoons ground espresso
1 cup chopped hazelnuts (optional)

Preheat oven to 350 degrees. Lightly grease 13 x 9 x 2 inch baking pan . In a medium bowl, mix graham cracker, 1 cup butter and powdered sugar. Pat into bottom of prepared pan. Bake for 10 minutes. Melt chocolate and 1/2 cup butter in double boiler. In a medium bowl, beat egg whites, one ate at a time, with sugar added. Slowly add chocolate butter mixture and beat until well incorporated. Beat in bean puree and espresso. Fold in hazelnuts. Pour filling over partially baked crust. Bake for 40 to 45 minutes or until firm in the center. Place on a wire rack and let cool completely. Cut into bars.

Makes 24 to 30 bars .
Other books by the author and chef - David Woods!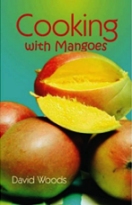 Click on book cover for all the information.